Boutique Sports Events
While you work hard, We make you play harder!
izaara cricket fiesta
Izaara is a pioneer in boutique sports events ,having created the 1st day and night cricket event in Singapore a decade ago. As the flame continues to burn with the annual Izaara cup that is now featured on Star TV, we look forward to creating many exciting new events for us and our clients !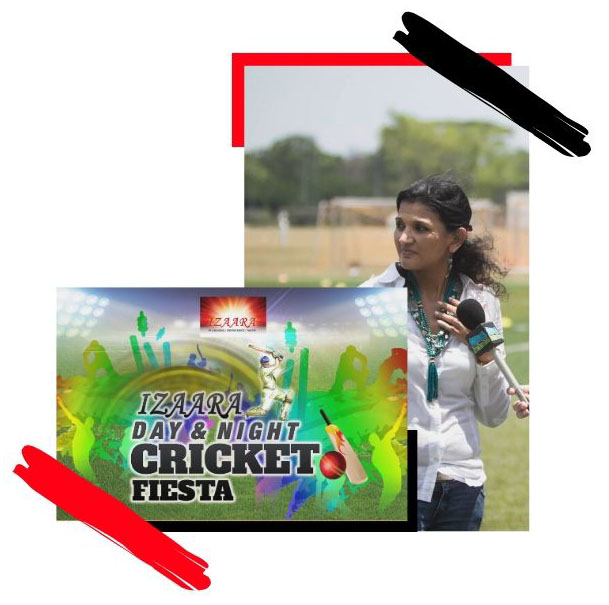 What our clients say
Rakesh Khanna, HP
I, along will all my team mates would say it was an excellent event done so nicely. As you know HP participated this event for the 1st time and all of HP's players and our colleagues loved the day. Good atmosphere, friendly opposition teams and their kindness made the event better.

Capt. Ashok Batura, Sinoda Shipping
It was our great pleasure and honour to be part of your event. It was very well organised. Your passion for Izaara is commendable , and we are with you all the way.

Nirmal Tripathy Capt. MEIJI MAVERICKS
I would like to take this opportunity to thank you and your team for organizing such a fabulous tournament. We are overwhelmed by Izaara's hospitality and enjoyed the tournament to the fullest. The tournament was a great success and all players played in the true spirit of the game. We would really like to be a part of this tournament in its future editions.

Sudesh Desai MCC
Hey I just enjoyed and hope to see much more of such events . Flawlessly organized. Monisha was a great host as always.

Pranshu / Kline
Hi Monisha fst of all Thanks a lot and hats off to for conducting grt tournament against all odds (specially singapore weather). We really enjoyed the event and your personal involvement in the event was commendable. We would definitely be part of this of grt event in coming years and sure this will go bigger n bigger every year. Wish you all the best for future events.

Kunal Chaddha
Tks Monisha for Organising yet another great Cricket bonanza. We have thoroughly enjoyed it over the years and this year was no different and great work in putting it together for us on another day. Congratulations to all the winner teams and individual players. Wishing izaara success and look forward to the next one!

Sachin Singh
Thanks Monisha. Appreciate the great work. Speaking for MCC, we loved every bit of the outings. May the spirit of cricket grow and the passion continue to burn within us for many more such Izaara tournaments. Thank you and your team on behalf of each one of us at MCC.

Work with us!
Email Address :
monisha@izaara.com