Izaara Day and Night Cricket Fiesta 2020
Concept Creator – Producer
Singapore Indian Association
The Izaara Cricket Day & Night Fiesta 2020 was another exciting event of cricketing under the Izaara Cup cricket series. Held at Indian Association on 15Feb 2020, 8 teams  contested with amazing sportsmanship and some wonderful camaraderie!
The heavens smiled  with clear blue skies and sunshine at the fantasticgroup of sportsmen who had gathered to play the 9th edition of the Izaara cup 2020.
With the Corona Virus outbreak in Singapore, Izaara strictly followed all the procedures set by MOH for conducting events which included Temperature screening, travel declarations, controlled access to the ground and liberal use of hand sanitizers by the players, officials and event guests.
The teams were split into two groups.
| | |
| --- | --- |
| GROUP A | GROUP B |
| S7 Tamil Thalaivas | MCC Hurricanes |
| MCC Avengers | Desi Boyz |
| E&Y | SCC |
| Golden Stena | Meiji Mavericks |
The event, held at one of the premium cricketing grounds in Singapore
Was fortunate to have STAR TV as the Media Partner once again. The highlights of this much-loved boutique event will be telecast by our Media partner STAR TV on theirpopular STAR PLUS channel.
We are very thankful  to our Entertainment partners, Moshi Moshi Bollywood, who lit up the evening with their bevy of beautiful dancers.
In addition, we acknowledge with many thanksour supporting Partner, Aaudaz Maritime Pte Ltd, for their valuable support and  to MAAV Apparels for sponsoring towels to all the players to beat the Singapore heat.
This lively tournament always sees some prolific play,with fours and sixes raining, and an impressive display of tight bowling and fielding. The standards go up a notch higher each year, andthis year was no different.
Almost all the team games in the group stage were close, with victory margins ranging from 1-18 runs, though one match saw a win margin of  47 Runs. The victory margins while chasing the scores ranged from a ball remaining to 9 balls to spare,with 3 to 7 wickets in hand. There were some prolific shots, with 77 Fours–  and 94 Sixesthe league, semifinals and finals in total. Of particular mention is the eight sixes hit by Gowtham Chakravarthi of E&Y
In Group A, S7 Tamil Thalaivas topped the group with all 3 straight league wins- including a closely game with Mariners CC Avengers with a 6 to win and become the table topper.
In Group B, MCC Hurricanes, Desi Boyz and SCC are all emerged with two victories each. With NRR being the decider, MCC Hurricanes topped the table. The highlight of this group was is the last league game between SCC playedand MCC Hurricanes. SCC required to chase 63 in 4.1 overs to go past the NRR of Desi Boyz; while they did win but this was in 5.4 overs, thus losing the semi -final slot to Desi Boyz.
The nail biting Final for the IZAARA CUP 2020 was contested between the Mariners CC Hurricanesand S7 Tamil Thalaivas – who were thechampionsof the Izaara 2019 tournament.It was truly a historic moment to see the same teams contestingfor the Izaara Cup 2 years in a row ,with the Mariners scoring just 58/4 in their allotted 6-overs and the S7 Tamil Thalaivas falling short of this target, scoring 31/3 in their 6-overs.
Mariners CC Hurricanes thus took the Trophy home as the champions of the 9th edition of the Izaara Day & Night Cricket Fiesta 2020.
To acknowledge some outstanding individual performances, the Player of the tournament went to Ramesh Kalimuthuof the S7 Tamil Thalaivas–with incredible statistics of 74 Runs off the bat including 6X4's, 6X6's and two wickets with the ball in just 25 balls, giving away 29 runs.He excelled in the field as well, taking 3 catches and contributing to 2 Run Outs. His MVP of 21.62 was atleast 4 MVP points higher than the next player in the table.
The Best batsman of the Tournament went  to Harjinder Deol of the Mariners CC Hurricanes-with a remarkable stats of 79 Runs including 2X4's and 6X6's leading Mariners CC Hurricanes into the finals.
The Best bowler of the Tournament went goes to the lively Karthik Balaof Mariners CC Hurricanes with the amazing stats of 25 balls, 22 Runs, and 6 Wickets. He bowled remarkably well, bowling a Maiden over in the Finals. Karthik proved to be quite an entertainer off the field, as he kept up the banter with his lively commentary.
As the bar is raised each year,the above stats show that batsmen and bowlers contested equally in this lively tournament. The team standards in the tournament keeps getting better and stronger, hence ensuring the competitive atmosphere of the Izaara Cupis kept alive, year after year.
Izaara Cup Winners 2020 – Mariners CC Hurricanes
Izaara Plate Winners 2020 – S7 Tamil Thalaivas
Izaara Shield Winners 2020 – Mariners CC Avengers & Desi Boyz (Joint Winners)
Izaara Cup 2021 promises to be a grander and a bigger event as we look forward to some great action! We request the teams to get ready for the challenge!
 League Stage Points Table
Group A
| GROUP A | PLAYED | WINS | LOST | POINTS | NRR |
| --- | --- | --- | --- | --- | --- |
| S7 Tamil Thalaivas | 3 | 3 | 0 | 6 | +2.488 |
| MCC Avengers | 3 | 2 | 1 | 4 | +0.389 |
| E&Y | 3 | 1 | 2 | 2 | -0.899 |
| Golden Stena | 3 | 0 | 3 | 0 | -2.132 |
Group B
| GROUP B | PLAYED | WINS | LOST | POINTS | NRR |
| --- | --- | --- | --- | --- | --- |
| MCC Hurricanes | 3 | 2 | 1 | 4 | +3.365 |
| Desi Boyz | 3 | 2 | 1 | 4 | +0.265 |
| SCC | 3 | 2 | 1 | 4 | -0.667 |
| Meiji Mavericks | 3 | 0 | 3 | 0 | -2.954 |
MATCHES SUMMARY Group A – League Games – IZAARA 2020 – https://www.crichq.com/competitions/12723/draws/47050/rounds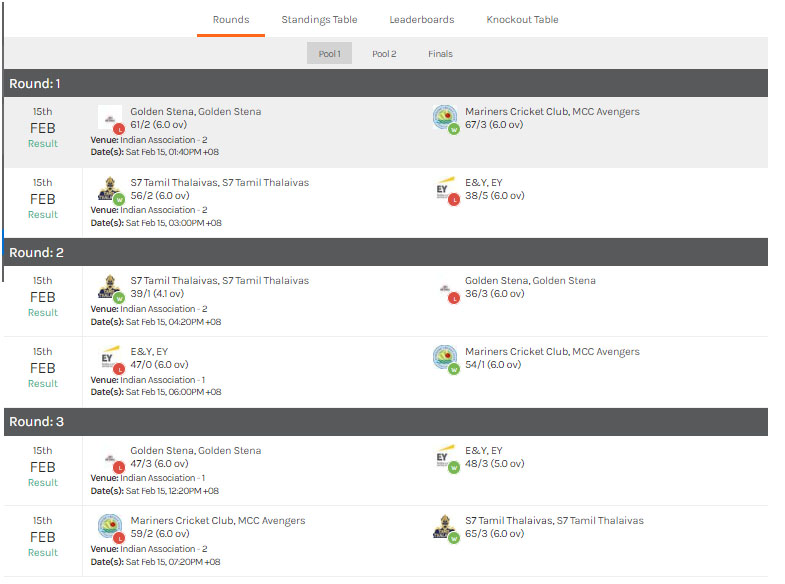 Group B – League Games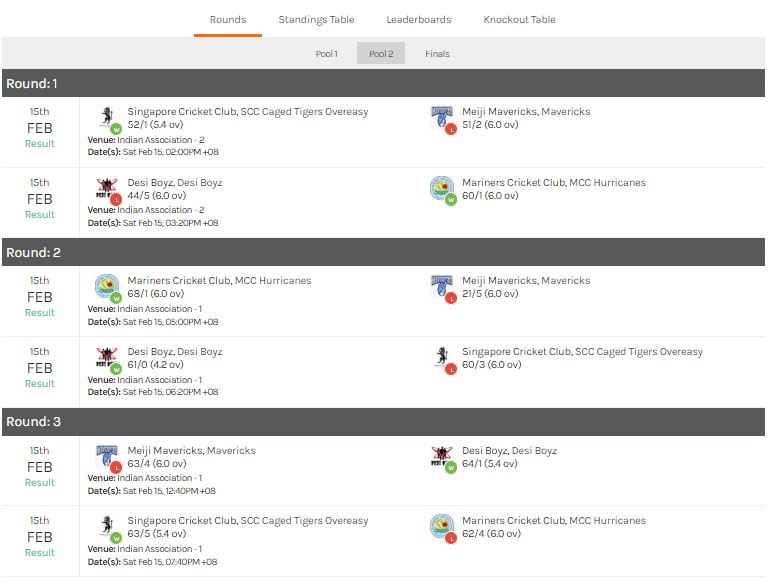 Semifinals & Finals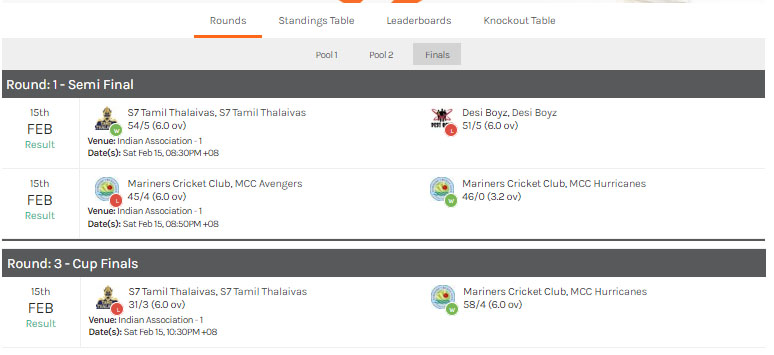 What our clients say
Sachin Sherawat-MCC
A very well organised event well done Team Izaara and Monisha Charan

Ashok Kumar
Another great season! Always a great event in Singapore's calendar

Ricky sapuran Singh
U nailed it Monisha !!
Awesome Event and superb atmosphere. Cheers !!

Sangita
You're quite a rockstar, Monisha! Congrats on yet another incredible event♡♡

Manvanth Kunjur
Thank you Monisha for such a fabulous tournament and your attention to every detail was immaculate… Thank you Izarra for another wonderful show

Brijesh Mongia
Morning Monisha!
Thank you very much for a wonderful event on Saturday. It was a big hit and we all had a lot of fun.
Well done and congratulations!
Everyone was talking highly about this event. Cheers!

Atima Joshi
Congratulations Monisha Charan! You are a wonderful, unstoppable force of positivity! Awesome!

Ricky
Congratulations on a well organised and superb Izaara Cricket Event. Moshi is super glad to support your Event. Cheers

Siddhartha Dutta
Wonderful would be an understatement- kudos to Monisha for organising and managing this kind of tournament. Well done!!! and heartiest Congratulations.

Dushyant
Congratulations for wonderful event…we as K-Line missed this year….

Sandeep Patnaik - Golden Stena
Appreciated and it was a great tournament as well as gr8 day

Sandeep Patnaik
IZAARA Cup: The name is as stylish as the game and its format. With some exquisite teams performing it is not about cricket but a full day of fun, frolic and entertainment. Thanks to the organizers, Monisha & Abhay especially for handling this in such a manner. The entire crew is such a good sport and gives a personal touch to all participants at all times making them feel comfortable. At the end just to say, although it's a game and there is win and loss, but in Izaara every participant is a winner. Cheers and good luck Monisha and Abhay for such a great tournament.
P.S: Not to forget amidst the COVID i would say one of the best organized tournament in Singapore.
