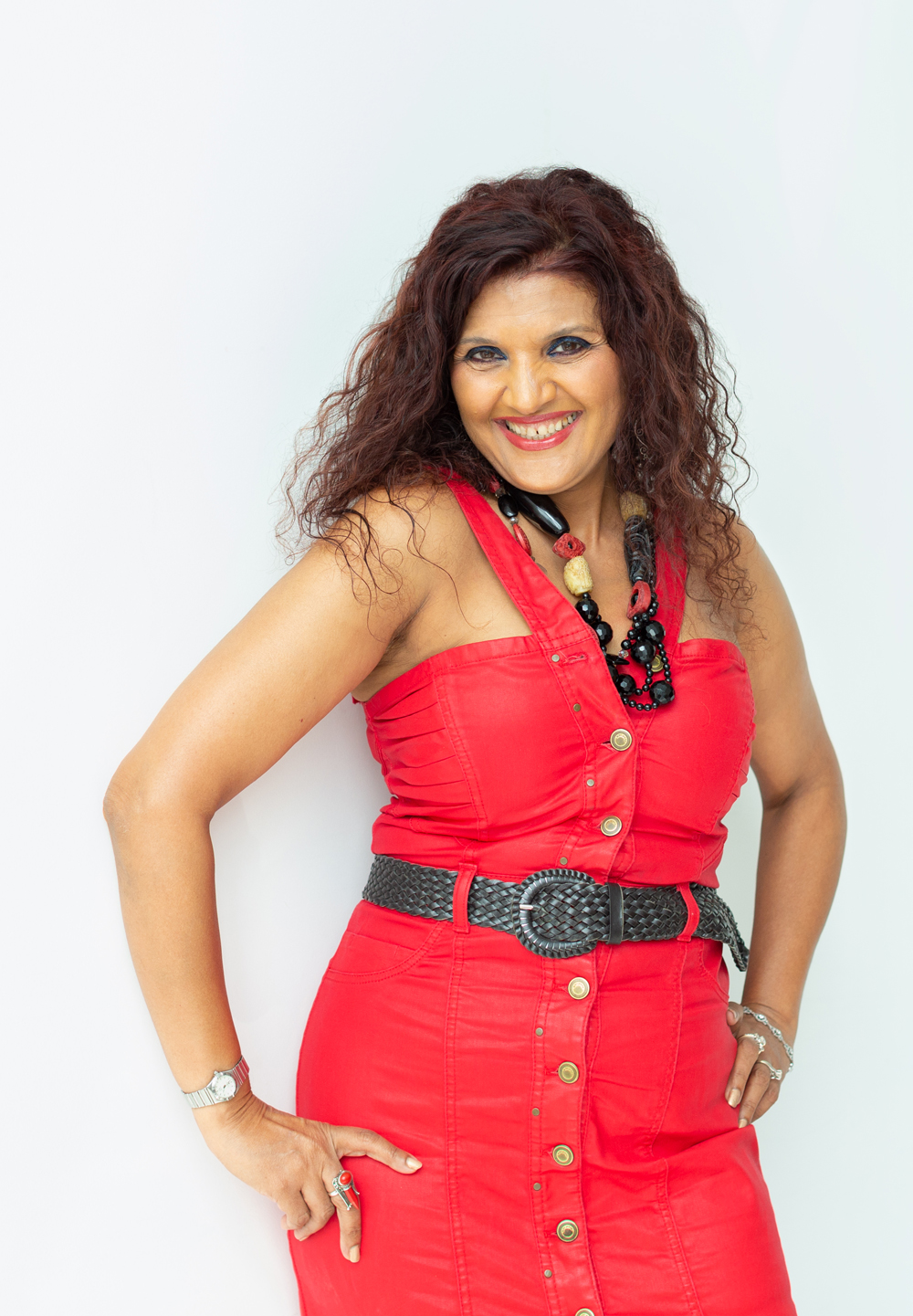 About Me
The Founder: Monisha Charan
The Company's director  Ms Monisha Charan, brings with her a multi-faceted angle to Izaara. She is a Transformational Life coach, with an expertise spanning years of working with a wide array of events. Blending creativity with her organizational skills to create unique and memorable events has been her signature style. Furthermore ,with a background and training in Fashion Design, Mass communication, Event management and Coaching all culminating in her fascinating and non -linear career. Her magic-mantra "If you have a heartbeat there's still time for your dreams"
The 1st' fashion show in a bazaar in Singapore- IWA 2008. Izaara's decade-old day and night cricket event to be held in Singapore, awaiting its next edition with highlights up on Star TV. A multi-designer fashion show in 2012 to inclusive fashion with -Runway Mom-2016 ."THEATRE in a BAR" in Singapore for the 1st time in 2017 to the peerless Mystical Myths-2019  She thrives with challenge taking IZAARA  and herself to new frontiers. A choregrapher– stylist and writer, she also blogs and contributes to publications.
Corporate social responsibility 
Monisha is also passionate about causes and fundraises and supports animal charities in Singapore and India. Public relations, Effective marketing, Branding for products and organizations and good Media and client relations have all been part of her portfolio.  She brings all of this experience into her latest offering ..Izaara Transformational coaching.
IZAARA has been the personification of all her dreams and she continues to dream on and create a difference!
awards and accolades
Izaara and its founder Monisha has been recognized and appreciated by several awards and accolades.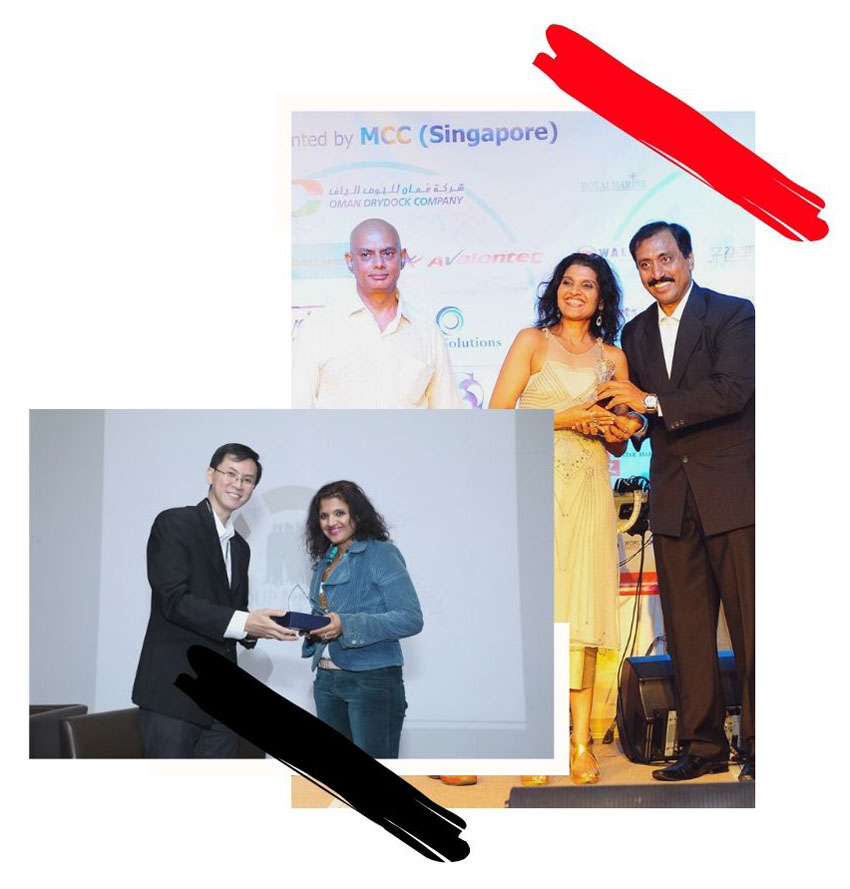 as seen on
Izaara's events get a regular mention in prominent media in Singapore. Izaara's Monisha Charan was featured in BWN Asia's Magazine Cover for Feb/March 2020 issue.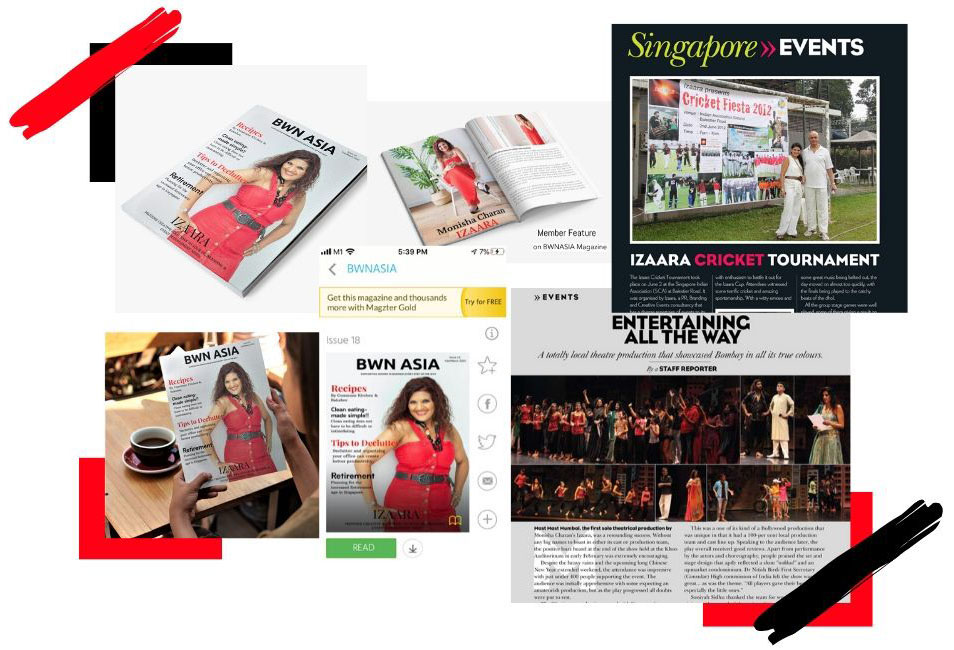 What our clients say
Rachita Arke
Friends in Singapore do catch Mystical Myths if your're looking for something different and magical . 4 intriguing stories, 4 super talented directors and a stellar cast!
Monisha Charan- Congratulations! Loved it !

Payal Thakurani
Just watched Mystical myths by Izaara at Goodman Arts Centre – a bouquet of four folk tales directed by very four talented people. I can't rave enough about the performances of the entire cast – top notch!!! Beautiful production and amazing talent. Just two more shows to go tomorrow and Sunday – please do go see it if you enjoy good theatre. Tickets details are in the poster below.

Atima Joshi
Middleton School
Principal
Risk-taking in theatre and presenting something new is always fraught with doubts and uncertainties. Yet it is this risk taking which breaks the mould and discovers new possibilities.
Monisha Charan, your Mystical Myths stood out due to its distinct vision of reaching out to the local audiences. Bringing the Chinese, the Malay, the Indian and the Western plays together was a beautiful weave that represented Singapore's inherent fabric. I absolutely loved the 'lady white serpent', 'the tape' gave me goosebumps, the malay story brought a twisted taste of anger, dismay and pity (the actors were outstanding!), and the Indian myth Aravan was one I had not heard of before. Loved the grace Siddhi and her partner brought to the show. Take a bow Monisha! Well done.

Michelle Mcfarlane
BWN Asia
Last night my Husband and I among a few other members and friends attended Mystical Myths produced by Monisha Charan of Izaara at Goodman Arts Centre. Mystical Myths is made up of four folk tales directed by 4 extremely talented local directors. The performances, had many emotions it left us mesmerised. Great performance from the entire cast. Book your tickets for this great production and see amazing local talent tell their mystical myth. Just two more shows to go tonight and Sunday it's not too late to book and enjoy this great theatre production.

Sangeeta Nambiar
Playacting Productions
Watched the very entertaining Mystical Myths. 4 beautiful stories, a fabulous cast and a kickass producer who always brings something different to the stage. Only 2 shows left. Catch the sheer magic of these myths!
Monisha always does something different on stage.
Kudos to her! Monisha, you should be very proud of how you have single handedly put together this amazing production. Kudos to your ever optimistic spirit. Looking forward to many more meaningful, different, interesting plays and events from Izaara Creative Productions!
Congratulations Monisha Charan!!

Shalakaa Karnik Ranadive
So proud of you Monisha! Congratulations! May you go from strength to strength! For those of you who haven't seen it yet- last show tomorrow- Mystical Myths Goodman Arts Centre

Ashwathi Jacob
VP- Star Vijay Singapore
Mystical Myths -From the caption to the stories and the performance of the artists themselves- absolutely loved it. Kudos to you, Monisha. So glad I came for it!!

Alpana Ahuja
Artist and Animal rights activist
A very big thank you to Monisha Charan and Izaara for always supporting ACRES: Animal Concerns Research and Education Society (Singapore) and all animal causes. A fabulous production.

Nibedita Chattopadhyay
Nritya Chanda
Watched Monisha Charan's MYSTICAL MYTHS was a truelly mesmerirising show.. Direction, Action, Costumes, Light-Sound ..everything was absolutely outstanding. Couldn't blink for a second! It was an absolute pleasure to watch Monisha's show.
Thank you for such pleasure and joy,eagerly await your next show !

Ricky Sapuran Singh
Moshi staff night out yesterday to watch the very entertaining Mystical Myths of 4 multi-cultural plays with an awesome multi-racial cast.
Superbly entertaining!!
Congratulations Monisha Charan!!

Rakesh Khanna, HP
I, along will all my team mates would say it was an excellent event done so nicely. As you know HP participated this event for the 1st time and all of HP's players and our colleagues loved the day. Good atmosphere, friendly opposition teams and their kindness made the event better.

Capt. Ashok Batura, Sinoda Shipping
It was our great pleasure and honour to be part of your event. It was very well organised. Your passion for Izaara is commendable , and we are with you all the way.

Nirmal Tripathy Capt. MEIJI MAVERICKS
I would like to take this opportunity to thank you and your team for organizing such a fabulous tournament. We are overwhelmed by Izaara's hospitality and enjoyed the tournament to the fullest. The tournament was a great success and all players played in the true spirit of the game. We would really like to be a part of this tournament in its future editions.

Sudesh Desai MCC
Hey I just enjoyed and hope to see much more of such events . Flawlessly organized. Monisha was a great host as always.

Pranshu / Kline
Hi Monisha fst of all Thanks a lot and hats off to for conducting grt tournament against all odds (specially singapore weather). We really enjoyed the event and your personal involvement in the event was commendable. We would definitely be part of this of grt event in coming years and sure this will go bigger n bigger every year. Wish you all the best for future events.

Kunal Chaddha
Tks Monisha for Organising yet another great Cricket bonanza. We have thoroughly enjoyed it over the years and this year was no different and great work in putting it together for us on another day. Congratulations to all the winner teams and individual players. Wishing izaara success and look forward to the next one!

Sachin Singh
Thanks Monisha. Appreciate the great work. Speaking for MCC, we loved every bit of the outings. May the spirit of cricket grow and the passion continue to burn within us for many more such Izaara tournaments. Thank you and your team on behalf of each one of us at MCC.

Anita Dewan
Hi Monisha, congratulations on a brilliant production! Terrific acting, brilliant singing and dancing by the artists! Great job of putting it all together!

Susie Tyrie
My pleasure I really enjoyed it.

Arishtha
Babe a rocking ensemble cast & mixed medium delivery You ruled the black box with this one

Sumegha Mehtani
Hey.i enjoy classical so really loved it.. u did awesome and ur whole crew did amazing job and Siddhi dances so very well

Anurita Kher
Hey babes, a fantastic play with amazing actors and moments that caught our attention ???????????? Kudos to you ????????

Priya Divakaran
Hi Monisha, the play was very good…i enjoyed it a lot…especially Kali, rudra dances..made me have goosebumps…the comedy & the acting of the cast…????????

Anubhuti Dhote
Good work ???? , the play was excellent as it had the dance element in it was really nice

Rajan Mathur - K line
Thanks once again for a super evening yesterday. We all enjoyed it thoroughly and appreciate the efforts you put it behind this. Do send us the photos of the event once available.

Siddhartha Dutta
Wonderful would be an understatement- kudos to Monisha for organizing and managing this kind of tournament. Well done!!! and heartiest Congratulations.

A Fan
It was a great evening, and left me enthralled and appreciative of the tales.It made me realize how valid they remain even in today's world. No wonder the show ran to two full houses, and I look forward to a reprise soonest.

Manjula Bains
Panchatantra A Moral Compass – a gentle reminder to adults of the plotted conspiracies stemming from personal insecurities that can threaten one's creativity & have damaging repercussions . It's interesting how people can be influenced to believe the Gossip , the Negative & even enjoy a laugh , without ascertaining facts . But as we all know , the Truth outshines every lie ultimately . Enjoyed all the Characters & stories of Panchatantra.

Alfrieda
I was not sure what to expect but found I enjoyed myself. There was good application of the morals and values to today's life and done in a fun manner. The cast were all good and particularly the tree whose eye expressions and tone I found very engaging.

Abhineeka Mitra
Fabulous acting , Storyline really good and with a strong message too.

Vaishali Kulkarni
Good show Monisha ????????
We all enjoyed it throughly.Wish you all the success????

Rohina Singh
Hey Monisha, Great show and a great job by the cast ????????

Prerna Rajpal
Monisha, must acknowledge ur cast is very strong! We all Enjoyed the show last evening. .Looking forward to more evenings like this.

Rajesh Baran
Panchtantra stories are based on black and white. They do not differentiate grey, but in contemporary times, to pick up a line from your main protogonist, fifty shades of grey or green, the play had its absolute relevance. Portrayed well, questioned and enacted well and definitely enjoyed by us.

Raina
Everybody enjoyed the show and all the kids had their own chosen favorite character!! I loved the concept. Thank you for a memorable day and must say the venue was beautiful!!

Alpana Ahuja
Hi Monisha
You had a great cast there Monisha! Very well acted and I did like the modern twist along with the social messages.
Alpana Ahuja

Sachin Sherawat-MCC
A very well organised event well done Team Izaara and Monisha Charan

Ashok Kumar
Another great season! Always a great event in Singapore's calendar

Ricky sapuran Singh
U nailed it Monisha !!
Awesome Event and superb atmosphere. Cheers !!

Sangita
You're quite a rockstar, Monisha! Congrats on yet another incredible event♡♡

Manvanth Kunjur
Thank you Monisha for such a fabulous tournament and your attention to every detail was immaculate… Thank you Izarra for another wonderful show

Brijesh Mongia
Morning Monisha!
Thank you very much for a wonderful event on Saturday. It was a big hit and we all had a lot of fun.
Well done and congratulations!
Everyone was talking highly about this event. Cheers!

Atima Joshi
Congratulations Monisha Charan! You are a wonderful, unstoppable force of positivity! Awesome!

Ricky
Congratulations on a well organised and superb Izaara Cricket Event. Moshi is super glad to support your Event. Cheers

Siddhartha Dutta
Wonderful would be an understatement- kudos to Monisha for organising and managing this kind of tournament. Well done!!! and heartiest Congratulations.

Dushyant
Congratulations for wonderful event…we as K-Line missed this year….

Sandeep Patnaik - Golden Stena
Appreciated and it was a great tournament as well as gr8 day

Bhupesh Gandhi
Group Nautical, Singapore
Founder
Monisha is a fantastic, always happy and affable person. She has this unlimited energy from somewhere and the bounce to make even the dullest of moments come live. She is also very meticulous and at the same time creative, amazing combination. She managed a Conference for us and that was in a way perfect. She understands the other persons expactations very well and then managed it very well too despite limitations and constrains. Amazing person, eould definitely recommennd her for any creative Event and will be too glad to work with her at next earlier available Opportunity.

Alecandros Glykas
I know Monisha for a year now and she is really the most enthusiastic, positive thinking and ambitious personality in Singapore. Monisha is the king of person you want to rely upon. She has a business profile which highly invests in getting things done. If you are looking for a resourceful, compitent, kind and smart colleague, that Monisha. It has been a pleasure meeting you.

Sandeep Patnaik
IZAARA Cup: The name is as stylish as the game and its format. With some exquisite teams performing it is not about cricket but a full day of fun, frolic and entertainment. Thanks to the organizers, Monisha & Abhay especially for handling this in such a manner. The entire crew is such a good sport and gives a personal touch to all participants at all times making them feel comfortable. At the end just to say, although it's a game and there is win and loss, but in Izaara every participant is a winner. Cheers and good luck Monisha and Abhay for such a great tournament.
P.S: Not to forget amidst the COVID i would say one of the best organized tournament in Singapore.

Priyanka Talreja
Countless Journeys
Founder
Monisha is positive, intuitive, pragmatic and an empathetic listener who has found her calling as a trained transformational life coach. Her reflections through her life experiences show up through her coaching and her insights as an entrepreneur were very helpful to me. Her caring guidance helped me move on and see light at the end of the tunnel. I would highly recommend her as a life coach.

Avantika Ramesh
Love, Bonito
Data Analyst
Monisha's method of coaching is empowering and uplifting. By helping me reframe my mindset and challenging me to question myself, Monisha helped me break through barriers that I didn't even know were holding me back. She has the ability to step into the shoes of a millennial and contextualise with absolute ease. I've seen progress both personally and professionally – she is my go-to!

Nidhi Chopra Khanna
Accenture
Huge congratulations for a super-duper successful tournament!! What a comeback after the covid hiatus! More power to you.

Bhupendar Tanwar
Northern Marine - Swinging Sloggers
Many congratulations on delivering a masterpiece tournament. Your care and attention to detail was apparent in everything from ground selection, food, free flow beers and warm genuine interaction.

Shirish Pathak
Marine Consultant
Monisha
It was a very well organised event,we thoroughly enjoyed it.
Looking forward to participating in many more of your events in near future.
ALL THE BEST!

Rajan Mathur
K-line
Raising the bar each year Monisha! Wonderful event .Great fun, super cricket, wonderful atmosphere!

Sachin Singh
MCC lions - Fleet Ship Management
There were simply no showstoppers this year and that is the measure of success of the event this edition! More power to you and your team! Look forward to continuing this association for many years to come.

Yatish Malhotra
Anglo Eastern Ship Management
It was indeed 2 days of fun cricket n some close games. It was a pleasure to be part of this fiesta and look forward to many more in the future. You did a fab job. All the best and keep shining!

Pranshu Vashisht
K-line
Thanks Monisha for arranging superb event. A weekend full of cricket n fun!All the very best for your future endeavours' and looking forward to next year!

Kennie Kishore
HP
Thanks Monisha! As usual you guys do an amazing job and tournament was such a huge success ! Clearly CRICKET was the winner! It was well organised and all the teams participated with right and good spirit !! Kudos to you and your team

Manish Bariya
K-line
Thanks to u for the fantastic event.
Your efforts and arrangements are commendable !.
Hard to believe it will be back next year.. wish it could be held more frequently.!

Shivanshu Sharma
Mizzen Digital
It was amazing to witness anexperience curated by Monisha Charan, bringing out the best in people. An event we recommend as a must attend and if possible as a participating team. An amazing effort to bring the communities closer and connecting people. Kudos to you Monishaand we look forward to attending this again, over and over!

Tarun Bahuguna
AMC
I believe, that In the end, it's not just about winning or losing. But about the participation that help u grow and what values you learn from the event.

Sujit
Anglo Eastern Ship Management
Thanks Monisha. Grt tournament! We all enjoyed it!
