Multi Ethnic Theatre Production
Creativity that transcends races, cultures, nationalities.
Izaara Theatre Productions
IIZAARA has always created new and unique concepts in the world of theatre. Acclaimed multi -racial productions from pure Indian classics to its vibrant mythological adaptations ,Izaara has always created its unique pieces from Singapore's cultural diversity and Asia's rich cultural heritage . Working across ethnicities , and crossing all cultural boundaries and entertaining Singapore's discerning multi racial audiences makes Izaara's theatre a well -known name on Singapore stage .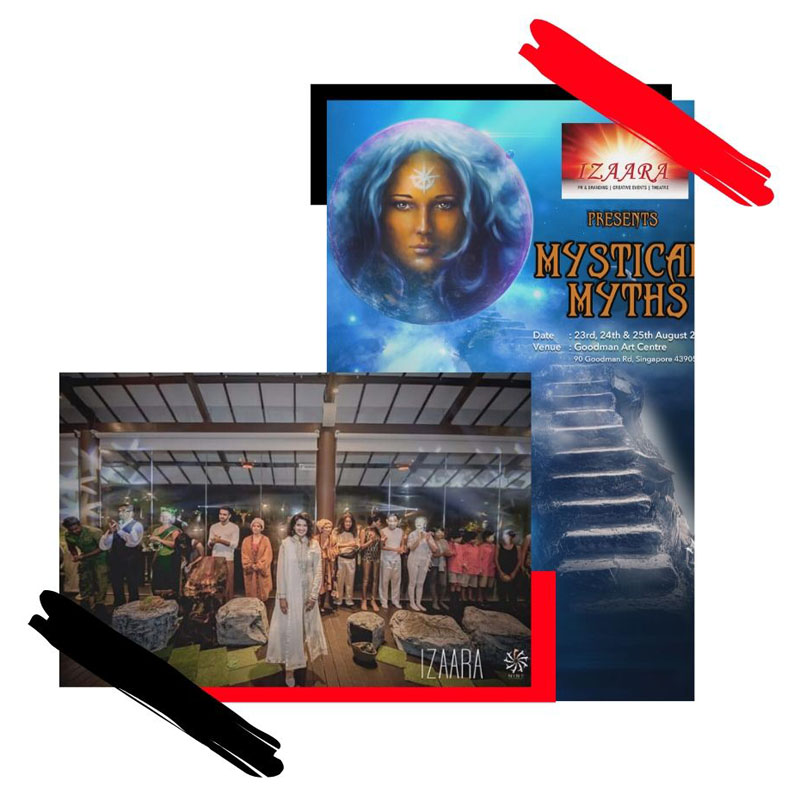 What our clients say
Atima Joshi
Middleton School
Principal
Risk-taking in theatre and presenting something new is always fraught with doubts and uncertainties. Yet it is this risk taking which breaks the mould and discovers new possibilities.
Monisha Charan, your Mystical Myths stood out due to its distinct vision of reaching out to the local audiences. Bringing the Chinese, the Malay, the Indian and the Western plays together was a beautiful weave that represented Singapore's inherent fabric. I absolutely loved the 'lady white serpent', 'the tape' gave me goosebumps, the malay story brought a twisted taste of anger, dismay and pity (the actors were outstanding!), and the Indian myth Aravan was one I had not heard of before. Loved the grace Siddhi and her partner brought to the show. Take a bow Monisha! Well done.

Michelle Mcfarlane
BWN Asia
Last night my Husband and I among a few other members and friends attended Mystical Myths produced by Monisha Charan of Izaara at Goodman Arts Centre. Mystical Myths is made up of four folk tales directed by 4 extremely talented local directors. The performances, had many emotions it left us mesmerised. Great performance from the entire cast. Book your tickets for this great production and see amazing local talent tell their mystical myth. Just two more shows to go tonight and Sunday it's not too late to book and enjoy this great theatre production.

Sangeeta Nambiar
Playacting Productions
Watched the very entertaining Mystical Myths. 4 beautiful stories, a fabulous cast and a kickass producer who always brings something different to the stage. Only 2 shows left. Catch the sheer magic of these myths!
Monisha always does something different on stage.
Kudos to her! Monisha, you should be very proud of how you have single handedly put together this amazing production. Kudos to your ever optimistic spirit. Looking forward to many more meaningful, different, interesting plays and events from Izaara Creative Productions!
Congratulations Monisha Charan!!

Shalakaa Karnik Ranadive
So proud of you Monisha! Congratulations! May you go from strength to strength! For those of you who haven't seen it yet- last show tomorrow- Mystical Myths Goodman Arts Centre

Ashwathi Jacob
VP- Star Vijay Singapore
Mystical Myths -From the caption to the stories and the performance of the artists themselves- absolutely loved it. Kudos to you, Monisha. So glad I came for it!!

Alpana Ahuja
Artist and Animal rights activist
A very big thank you to Monisha Charan and Izaara for always supporting ACRES: Animal Concerns Research and Education Society (Singapore) and all animal causes. A fabulous production.

Nibedita Chattopadhyay
Nritya Chanda
Watched Monisha Charan's MYSTICAL MYTHS was a truelly mesmerirising show.. Direction, Action, Costumes, Light-Sound ..everything was absolutely outstanding. Couldn't blink for a second! It was an absolute pleasure to watch Monisha's show.
Thank you for such pleasure and joy,eagerly await your next show !

Ricky Sapuran Singh
Moshi staff night out yesterday to watch the very entertaining Mystical Myths of 4 multi-cultural plays with an awesome multi-racial cast.
Superbly entertaining!!
Congratulations Monisha Charan!!

Anita Dewan
Hi Monisha, congratulations on a brilliant production! Terrific acting, brilliant singing and dancing by the artists! Great job of putting it all together!

Susie Tyrie
My pleasure I really enjoyed it.

Arishtha
Babe a rocking ensemble cast & mixed medium delivery You ruled the black box with this one

Sumegha Mehtani
Hey.i enjoy classical so really loved it.. u did awesome and ur whole crew did amazing job and Siddhi dances so very well

Anurita Kher
Hey babes, a fantastic play with amazing actors and moments that caught our attention ???????????? Kudos to you ????????

Priya Divakaran
Hi Monisha, the play was very good…i enjoyed it a lot…especially Kali, rudra dances..made me have goosebumps…the comedy & the acting of the cast…????????

Anubhuti Dhote
Good work ???? , the play was excellent as it had the dance element in it was really nice

Work with us!
Email Address :
monisha@izaara.com