PANCHATANTRA – A FOREST LORE
Multi-Ethnic Theater Productions
THE ENVIRONMENT IS IN DANGER, WATCH US SAVE IT!!
IZAARA 'S new production!
A simple story with a strong message!
The environment is in danger ! Come see us protect it !
IZAARA's
"PANCHATANTRA A Forest Lore"
A fundraiser production for animal charities!
Written ,produced and directed by Monisha Charan peppered with elements of naïveté and doses of reality this short play enacted by little pre-schoolers and adult actors evoked heartwarming reactions from the 60 strong audience!
It took the audience through a myriad of emotions as it flowed with a strong message of preserving nature and all its creations !
This collaborative venture staged at a little pre school was with the express purpose of raising funds and awareness for local animal charities!
Followed by a bazaar for charity it saw a good response .
IZAARA would like to thank all the supporters and donors for all their generosity.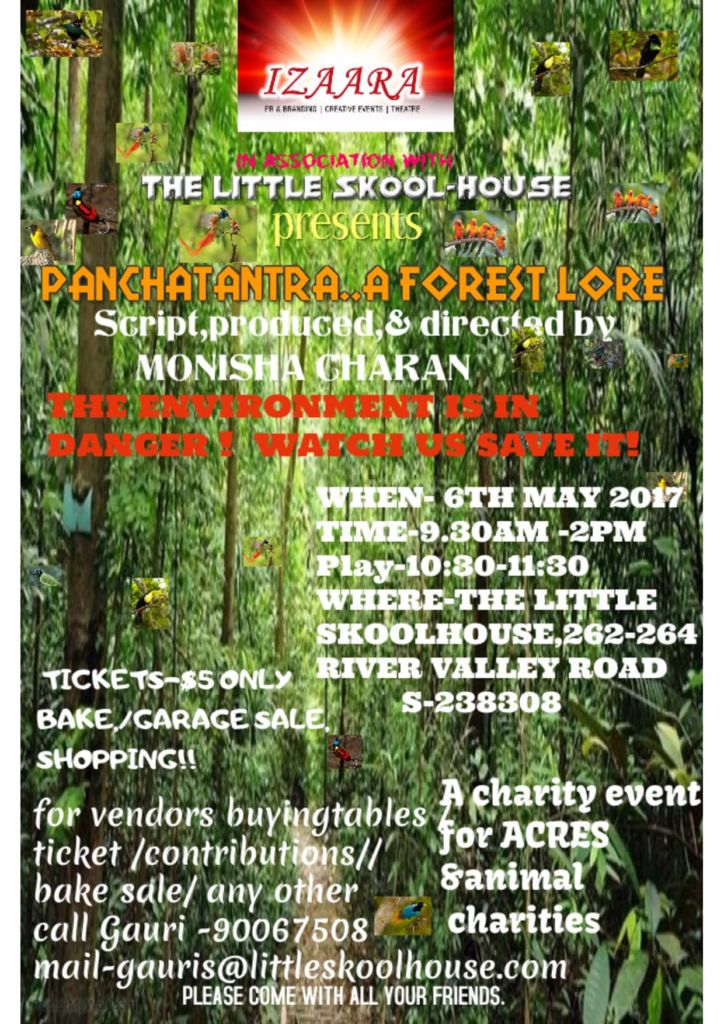 What our clients say
A Fan
It was a great evening, and left me enthralled and appreciative of the tales.It made me realize how valid they remain even in today's world. No wonder the show ran to two full houses, and I look forward to a reprise soonest.

Manjula Bains
Panchatantra A Moral Compass – a gentle reminder to adults of the plotted conspiracies stemming from personal insecurities that can threaten one's creativity & have damaging repercussions . It's interesting how people can be influenced to believe the Gossip , the Negative & even enjoy a laugh , without ascertaining facts . But as we all know , the Truth outshines every lie ultimately . Enjoyed all the Characters & stories of Panchatantra.

Alfrieda
I was not sure what to expect but found I enjoyed myself. There was good application of the morals and values to today's life and done in a fun manner. The cast were all good and particularly the tree whose eye expressions and tone I found very engaging.

Abhineeka Mitra
Fabulous acting , Storyline really good and with a strong message too.

Vaishali Kulkarni
Good show Monisha ????????
We all enjoyed it throughly.Wish you all the success????

Rohina Singh
Hey Monisha, Great show and a great job by the cast ????????

Prerna Rajpal
Monisha, must acknowledge ur cast is very strong! We all Enjoyed the show last evening. .Looking forward to more evenings like this.

Rajesh Baran
Panchtantra stories are based on black and white. They do not differentiate grey, but in contemporary times, to pick up a line from your main protogonist, fifty shades of grey or green, the play had its absolute relevance. Portrayed well, questioned and enacted well and definitely enjoyed by us.

Raina
Everybody enjoyed the show and all the kids had their own chosen favorite character!! I loved the concept. Thank you for a memorable day and must say the venue was beautiful!!

Alpana Ahuja
Hi Monisha
You had a great cast there Monisha! Very well acted and I did like the modern twist along with the social messages.
Alpana Ahuja
