Concept Creator – Producer
The cage sports park at the Turf city was the proud venue of the fourth edition of the Izaara Cup 8-a-side cricket fiesta. As in the earlier edition, this was a day-night event, starting at noon and ending in a climactic final a little after 10PM under the impressive floodlit ground. Coming with its 4th event this made IZAARA the oldest non-club/ non-league private cricketing event of its kind in Singapore .The event was also covered by Vasanatham in an early stage of the game.
The event was held in the true spirit of the game under the purview of the officials designated by the SCA. Yet the event's trademark fun, frolic and carnival atmosphere was apparent as the teams came in with a joie-de- vivre,resplendent in their bright colored attire, and jovial  spirit riding high on expectations of a good day of cricket. This was further heightened by the catchy music belted out by the DJ , building  up the crescendo further with every boundary and wicket taken during the game as Sameer and Kunal kept it going with their witty commentary  at the mike.
8 teams participated- many of them regulars .6 of these from the shipping fraternity including, Epic gas, K line, Meiji Maverick – Mms Tokyo , Navig8,  Mariners, Marine Care , who joined BSI Bank and Cracking Willows , to make two groups of 4 teams each.
The event was graciously co-sponsored by Sinoda Shipping agencies and RAKS International pte.ltd. A constant supply of food and drinks with dinner from Aromas Of India kept everyone in high spirits .
Kunal of Marine Care says:
"Izaara cup is a big cricket extravaganza much awaited by all of us, full of glitz, glory and glamour. Love being a part of it. "
Another successful event by Izaara a PR, Branding creative events consultancy with a vast repertoire of well received productions and fashion shows under its belt .
Mentions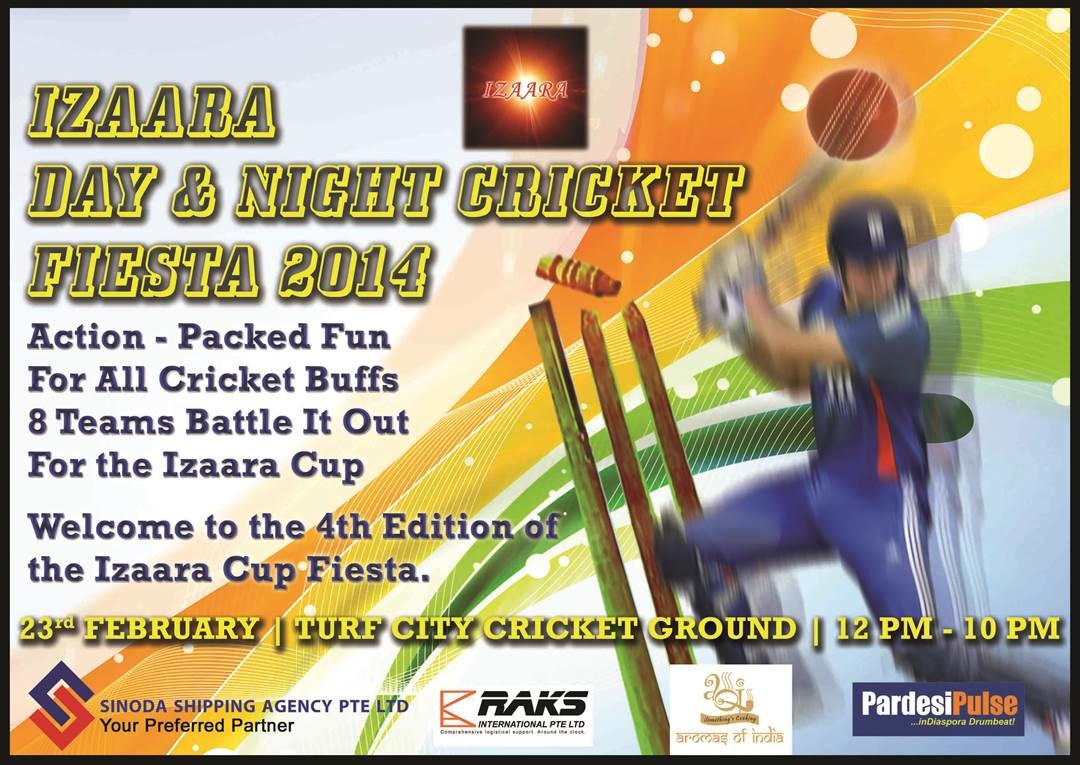 What our clients say
Rakesh Khanna, HP
I, along will all my team mates would say it was an excellent event done so nicely. As you know HP participated this event for the 1st time and all of HP's players and our colleagues loved the day. Good atmosphere, friendly opposition teams and their kindness made the event better.

Capt. Ashok Batura, Sinoda Shipping
It was our great pleasure and honour to be part of your event. It was very well organised. Your passion for Izaara is commendable , and we are with you all the way.

Nirmal Tripathy Capt. MEIJI MAVERICKS
I would like to take this opportunity to thank you and your team for organizing such a fabulous tournament. We are overwhelmed by Izaara's hospitality and enjoyed the tournament to the fullest. The tournament was a great success and all players played in the true spirit of the game. We would really like to be a part of this tournament in its future editions.

Sudesh Desai MCC
Hey I just enjoyed and hope to see much more of such events . Flawlessly organized. Monisha was a great host as always.
