Fashion with a Difference
Concept Creator – Choreographer. Stylist
Fashion Styling and Choreography

RUNWAY MOM
RUNWAY MOM, an event from the heart, conceptualized and implemented by Monisha Charan a creative producer -director of IZAARA.
IZAARA is a creative events company that has given Singapore many successful Theatre, Cricket and Fashion events since its inception in 2007.
Runway mom was done as an ODE to the spirit of womanhood as it epitomized womanhood in all its facets .Women maintain a fine balance in their lives' various roles- from a daughter, a wife, a mother to a career woman in this multidimensional world. A woman embodies a spirit of giving combined with style and grace, sharing our joys and love with our families.
This event, where the participation involved no selection process and no judging, was indeed a great success enjoyed by one and all who participated. The event saw 52 women and 58 kids take to the RED CARPET in all their glory. Watched by supportive friends and families that made the 250-odd audience that cheered, the event was hosted with great humour and finesse by Himani and Himanshu.
With Motivational guidance, styling, creative conceptualizing of looks and the lively Choreographing of the fashion segments by Monisha of Izaara, the event also saw some fabulous live music performances and great crowd support.
The event would not have been possible without the support of its kind sponsors. These included ARIZMA for its beautiful gold and diamond Jewelry, Kadambari for its handcrafted silver jewelry, Fab India, JINDERS and IWG for their beautiful clothes . Undoubtedly this CELEBRATION OF WOMANHOOD where many new bonds were forged and created on the 6th of March 2016 was indeed and EVENT with a CAUSE.
SINGAPORE SPORTS COUNCIL FASHION EVENT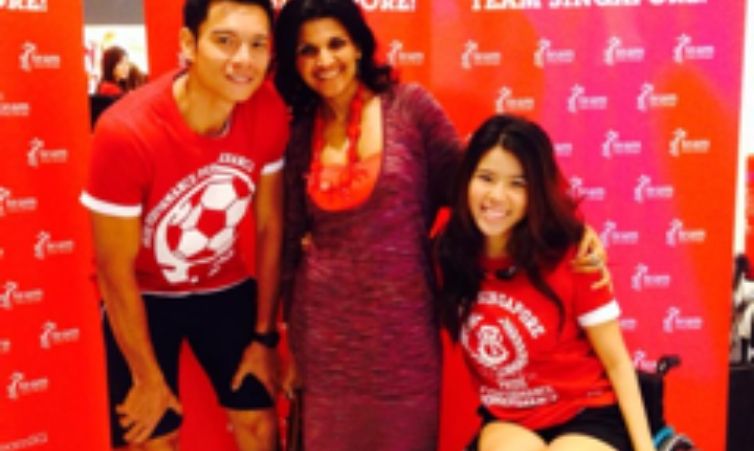 A fashion show with athletes of Singapore for the Sports council of Singapore . Created and executed in a span of 5 days with the models 1/2 day with no rehearsals or formal training of the models in an Espirit store that was the chosen venue for it.
INDOCHINE WITH GAURIKA
A cool fashion walk for Indochine with Gaurika.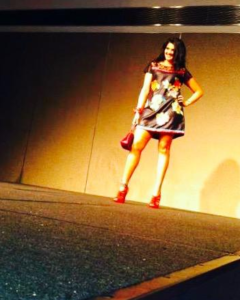 DIVINE RAGA
A Fashion Walk with a Difference!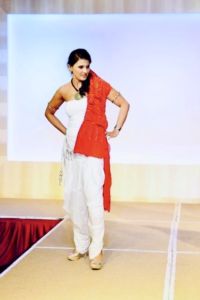 JEWEL FEST SINGAPORE
The Way to a woman's heart! A fashion walk with a mission by Monisha Charan for Jewel Fest Singapore.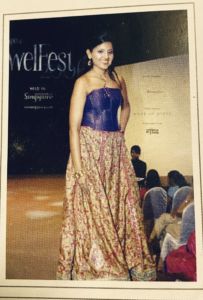 What our clients say
Atima Joshi
Middleton School
Principal
Risk-taking in theatre and presenting something new is always fraught with doubts and uncertainties. Yet it is this risk taking which breaks the mould and discovers new possibilities.
Monisha Charan, your Mystical Myths stood out due to its distinct vision of reaching out to the local audiences. Bringing the Chinese, the Malay, the Indian and the Western plays together was a beautiful weave that represented Singapore's inherent fabric. I absolutely loved the 'lady white serpent', 'the tape' gave me goosebumps, the malay story brought a twisted taste of anger, dismay and pity (the actors were outstanding!), and the Indian myth Aravan was one I had not heard of before. Loved the grace Siddhi and her partner brought to the show. Take a bow Monisha! Well done.

Michelle Mcfarlane
BWN Asia
Last night my Husband and I among a few other members and friends attended Mystical Myths produced by Monisha Charan of Izaara at Goodman Arts Centre. Mystical Myths is made up of four folk tales directed by 4 extremely talented local directors. The performances, had many emotions it left us mesmerised. Great performance from the entire cast. Book your tickets for this great production and see amazing local talent tell their mystical myth. Just two more shows to go tonight and Sunday it's not too late to book and enjoy this great theatre production.

Sangeeta Nambiar
Playacting Productions
Watched the very entertaining Mystical Myths. 4 beautiful stories, a fabulous cast and a kickass producer who always brings something different to the stage. Only 2 shows left. Catch the sheer magic of these myths!
Monisha always does something different on stage.
Kudos to her! Monisha, you should be very proud of how you have single handedly put together this amazing production. Kudos to your ever optimistic spirit. Looking forward to many more meaningful, different, interesting plays and events from Izaara Creative Productions!
Congratulations Monisha Charan!!

Rajan Mathur - K line
Thanks once again for a super evening yesterday. We all enjoyed it thoroughly and appreciate the efforts you put it behind this. Do send us the photos of the event once available.

Siddhartha Dutta
Wonderful would be an understatement- kudos to Monisha for organizing and managing this kind of tournament. Well done!!! and heartiest Congratulations.

Alecandros Glykas
I know Monisha for a year now and she is really the most enthusiastic, positive thinking and ambitious personality in Singapore. Monisha is the king of person you want to rely upon. She has a business profile which highly invests in getting things done. If you are looking for a resourceful, compitent, kind and smart colleague, that Monisha. It has been a pleasure meeting you.
